BIDS HAVE CLOSED FOR THIS AUCTION TIMESLOT
You will receive a call shortly from our LHC staff to confirm the winning bid with that highest bidder.
ITEMS ARE SUBJECT TO CHANGE
*NOTE*: This year gift cards will be mailed out to prize winners and high bidders. Please make sure addresses are properly added to PayPal when donating online in case you are a winner. All other items, the high bidder will be required to make an appt to pick up the prize. All items will have to be picked up by February 16th, 2024. Unless other arrangements have been made with Laura. If the high bidder does not make an appointment for item pick up by 2/16/24 they will forfeit the item. For any questions: laura@morningbuzz.com
HAMPTON BEACH CASINO "BUZZ SEASON PASS"

The high bidder will get one pair of tickets to every show at the Casino Ballroom during the 2024 concert season! (Tickets are non-transferrable – will call tickets only).
Courtesy of: Hampton Beach Casino Ballroom
Value: PRICELESS
AUTOGRAPHED GODSMACK GUITAR

The high bidder will get an autographed Godsmack Brown Sunburst Squier by Fender Stratocaster guitar.
Courtesy of: Godsmack
Value: PRICELESS
VALENTINE'S RIDE AND DINE STAY

The high bidder and guest will get a guided snowmobile tour with Northern Terrain Adventures on February 14th. Gear and sleds included. You and your guest will then have an overnight stay at Lopstick in Pittsburg, NH. Plus, after your day of riding you will enjoy a Valentines' dinner and breakfast the next morning prepared by Chef John at Full Send Bar and Grill.
Courtesy of: Full Send Bar and Grill
Value: $1,100
GRAPPLE LOAD OF WOOD

The high bidder will get 8 cords of three length hardwood meaning it comes in pieces that are 20-25 feet long, delivered to the bidder's house. Great for a fireplace or outdoor burner or any type of wood stove. All hardwood, oak, maple, beech, ash. (To be delivered to a 60-mile radius of Portsmouth)
Courtesy of: Varney and Sons Logging
Value: $1,200
CELTICS PACKAGE

The high bidder will get two tickets to watch the Celtics take on the Cleveland Cavaliers on Thursday, December 14th and before the game get to meet Brian Scalabrine and take a picture on the court!
Courtesy of: Brian Scalabrine
Value: PRICELESS
PAINTING WITH THE BUZZ – (30 spots only)

Join the Buzz for a paint night with HeARTwork at The Cork N' Keg Grill in Raymond. (Includes light apps, cash bar and additional food available for purchase.) (Date to be determined by the Buzz and high bidders)
Courtesy of: HeARTwork and The Cork N' Keg Grill
Value: $100 per two painters (limited to 30 spots)
KRETCHY'S PHOTO TRIP TO PORTLAND HEAD LIGHT/WATERFRONT SUNDAY JUNE 2, 2024 (10 SPOTS ONLY)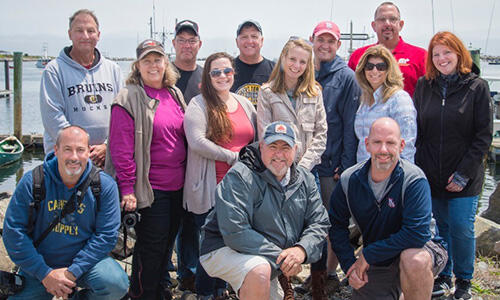 For anyone who has seen Greg's photography, and thought "I'd LOVE to out shooting with him!" – This is your chance! The spots for this go very quickly, so you'll have to act fast to get in! Greg, along with Scott Thorp Photography and Doug Harrrington Photography want to help you learn about how to use your DSLR or mirrorless camera, and the various techniques to help you achieve the kind of photos you want to produce. They'll help you with composition, exposure, focus, filters, long exposures and more. And we'll give you editing tips that can help make your photos stand out. It will be a fun day of learning new things about your camera, and how to take better images! Here's what we'll do!
We'll meet in Portsmouth at 5:30am, and jump on a GREAT BAY LIMOUSINE Luxury Van that will take us up to Cape Elizabeth Maine for an early morning shoot at the iconic Portland Head Light. We'll hopefully get some nice early morning light in this place that has so many different perspectives and beautiful shots, that you'll be able to shoot the morning tide (water movement shots!), the lighthouse, and gorgeous sights that surround her. Then, we'll jump back in the van and head back over to Portland and take a walk around the waterfront and photograph the harbor!
If you've been with us before, then you know - if not, here's what it will be: a fun day with people who love photography and just want to learn more. If you're a beginner? Perfect. If you're intermediate? Great. If you're an expert? Maybe you can teach Kretchy a few things!! Haha- But if you want to learn more about your camera, or try out shooting longer exposures to show water moving, or if you just want to hang with folks that love to talk and practice photography, then we've love to have you! Mostly, we want you to have fun and learn something along the way that will help you improve your photo skills.
*Note: This trip will require walking, with some hills, and rocks (if you so desire). There are paved walkways and you can stick to that if you are more comfortable. Estimated time 5:30pm-12pm or so.
These spots are available on a first come, first serve basis- and the cost is $450.00 per person.
Courtesy of: Greg Kretschmar, Scott Thorp Photography, Doug Harrington Photography and Great Bay Limousine
Value: $450 per person
NORTHWOODS BREWING BEER DINNER

The first thirty listeners that bid $125 will join the Buzz at Northwoods Brewing for a four-course meal paired with Northwoods Brewing beers. Meal includes: an appetizer, small plate, main course, dessert, each paired with an 8 oz pour. A brewer will be at the dinner to talk over each course and beer pairing. (Date of event: January 18, 2024)  
Courtesy of: Northwoods Brewing
Value: PRICELESS